2020 Housing Market Outlook Report
The 2020 RE/MAX Housing Market Outlook Report
Average home price expected to rise by 3.7% next year
• Increased consumer confidence could be a key factor affecting the housing market in 2020
• 51% of Canadians are considering a home purchase in the next five years, up from 36% at the same time last year
• Only two in 10 Canadians say that the mortgage stress test negatively affected their ability to purchase a home in 2019
RE/MAX is calling for a leveling out of the highs and lows that characterized the Canadian housing market in 2019. Healthy price increases are expected in 2020, with an estimated 3.7% increase in average residential sales price.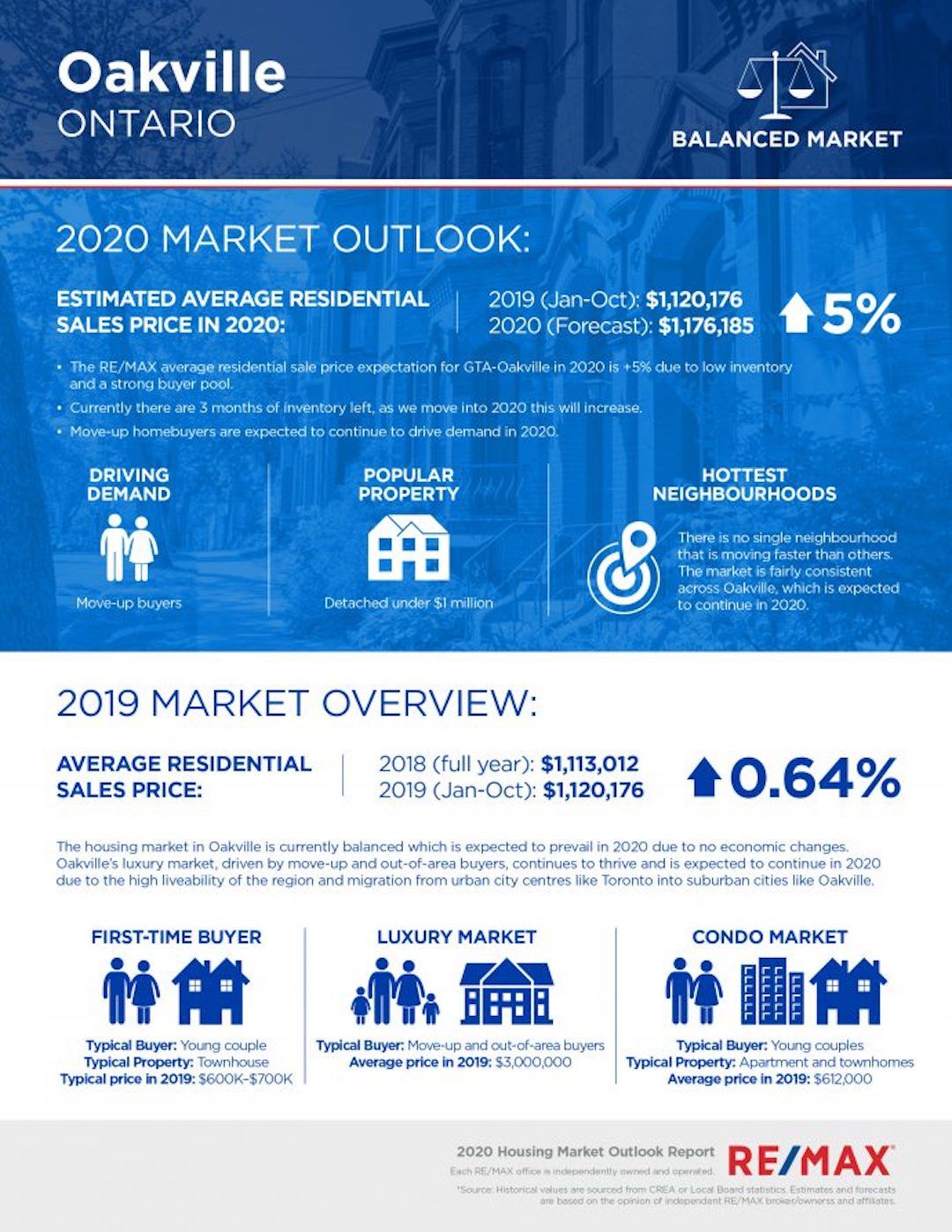 Oakville
RE/MAX is forecasting continuing balanced conditions for the Oakville housing market in 2020, which is expected to prevail in 2020 due to no economic changes. The average residential sale price is expected to rise by five per cent. The anticipated price increase is being attributed to low inventory and a strong buyer pool in the region.
Currently there are three months of inventory in the Oakville housing market, but as we move into 2020 this should increase.
Move-up homebuyers will continue to drive demand for homes in 2020. There is no single "hot neighbourhood" in Oakville that is selling faster than others. This market consistency is expected to continue in 2020.
Oakville's luxury housing market continues to thrive, with home sales being propelled by move-up and out-of-area buyers. Growth of this property segment is expected to continue in 2020 due to the high liveability of the region and the continuing trend of migration from urban city centres such as Toronto, into suburban cities like Oakville.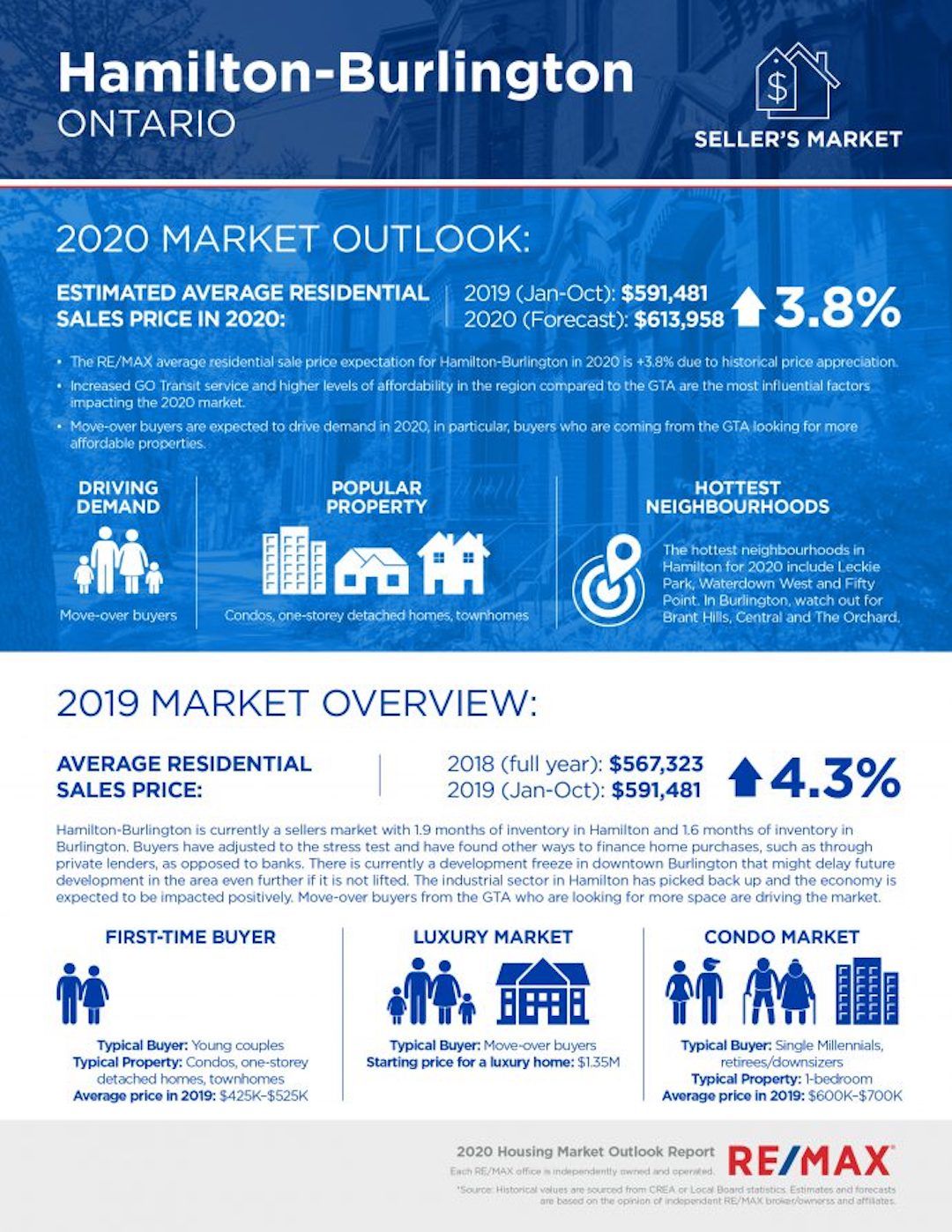 Burlington - Hamilton
Hamilton-Burlington housing market will favour sellers in 2020, with an average residential sale price increase of 3.8 per cent anticipated for the region next year, in line with historical price appreciation.
Hamilton-Burlington is currently experiencing a seller's market, with 1.9 months of inventory in Hamilton and 1.6 months of inventory in Burlington. Buyers have adjusted to the mortgage stress test and have found other ways to finance home purchases, such as through private lenders as opposed to banks.
There is currently a development freeze in downtown Burlington that could delay future development in the area even further if it is not lifted. The industrial sector in Hamilton has picked back up and the economy is expected to be impacted positively in the coming year. Move-over buyers from the GTA who are looking for more space are driving the market.
Increased GO Train service and higher levels of affordability in the region compared to the GTA are the most influential factors that will impact the Hamilton-Burlington housing market in 2020. Move-over buyers are expected to drive demand in 2020, in particular, moving from the GTA in search of more affordable properties.
The hottest neighbourhoods in Hamilton for 2020 include Leckie Park, Waterdown West and Fifty Point. In Burlington, in-demand neighbourhoods include Brant Hills, Central and The Orchard.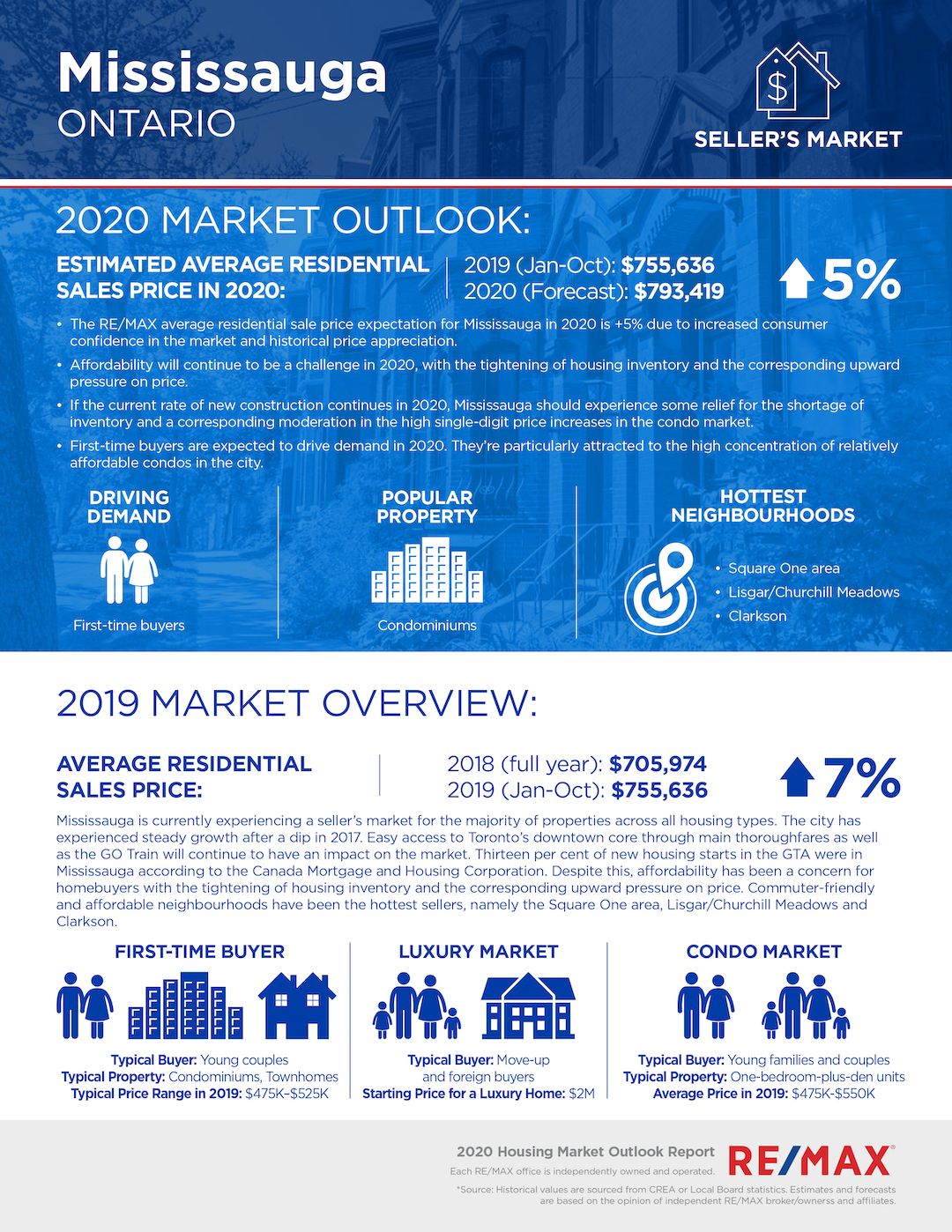 Mississauga
Mississauga housing market will lean toward sellers in 2020 across most property types, with the average residential sale price expected to rise by five per cent thanks to increased consumer confidence and historical price appreciation.
The Mississauga housing market experienced steady growth after taking a dip in 2017. Affordability remains a concern for homebuyers with the tightening of inventory and the corresponding upward pressure on pricing. This challenge will continue into 2020.
Thirteen per cent of the new housing starts in the Greater Toronto Area in 2019 took place in Mississauga according to Canada Mortgage and Housing Corp. This construction trend is expected to continue in 2020, bringing some relief to the inventory shortage in the region, and a corresponding moderation in the high single-digit price increases in Mississauga's condominium sector.
Easy access to Toronto's downtown core via Mississauga's main thoroughfares and GO Transit will continue to have an impact on the market. The hottest neighbourhood for Mississauga home sales is the area around Square One, due to the many affordable condo units found here. Lisgar/Churchill Meadows are also in high demand due to the affordable newer homes that require little maintenance. Clarkson is also a popular choice for homebuyers thanks to its relative affordability compared to the surrounding area, as well as easy access to GO Transit and the QEW.
First-time homebuyers are expected to propel the Mississauga housing market in 2020, attracted to the area by the high concentration of relatively affordable condos found here.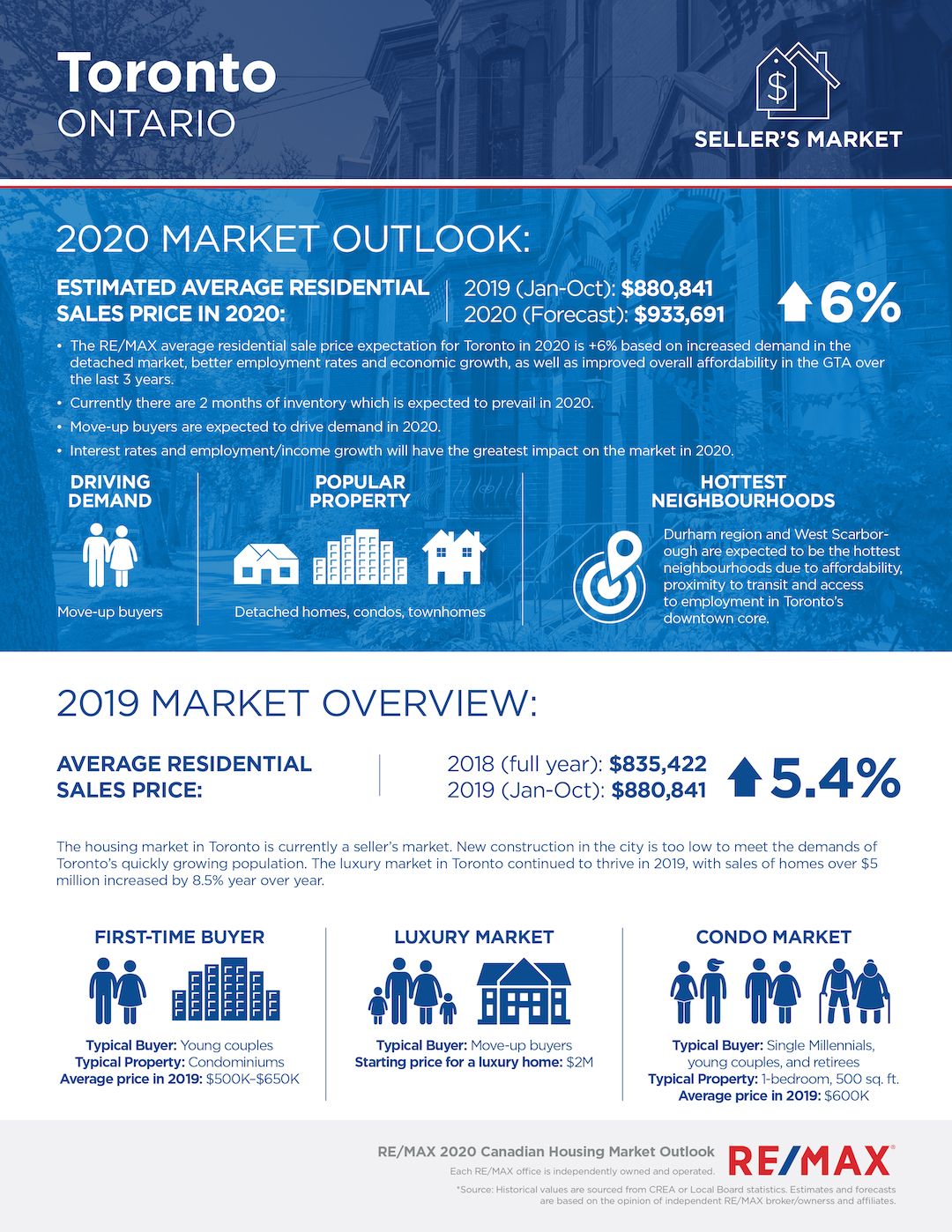 Toronto
Toronto housing market will favour sellers in 2020, with average residential sale price increasing by six per cent next year, based on increased demand in the detached market, better employment rates and economic growth, as well as improved overall affordability in the Greater Toronto Area over the last three years.
The Toronto housing market sat in seller's territory in 2019, and this trend is expected to continue next year. The rate of new construction in the city is too low to meet the increasing demands of Toronto's quickly growing population, which continues to put pressure on the market.
Currently there are two months of inventory, and these conditions are expected to prevail in 2020. Move-up buyers will drive demand in 2020.
Growth of Toronto luxury housing market continued to thrive in 2019, with the sale of homes over $5 million rising by 8.5 per cent year-over-year. Growth in this property segment is expected to continue in 2020.
Interest rates and employment/income growth will have the greatest impact on the market in 2020.
Durham region and west Scarborough will be in high demand, which RE/MAX attributes to affordability, proximity to transit and easy access to employment in Toronto's downtown core.
Have any Questions
We're here for you!
Want more seller ideas?
We post new content every week!