2019 Housing Market Outlook Report
The 2019 RE/MAX Housing Market Outlook Report
we are thrilled to announce the Re/Max Housing Report is Available - the info is below.
Rising interest rates will be a key factor affecting housing affordability in 2019
Thirty-six per cent of Canadians are considering a home purchase in the next five years, down from 48 per cent at the same time last year
Sixty-five per cent of Canadians said they do not want to live near a retail cannabis store
Modest price increases are expected in 2019, as the RE/MAX 2019 Housing Market Outlook estimates the average sales price to increase by 1.7 per cent. Housing markets across the country have stabilized in 2018, after the unprecedented increases in average sales price that many markets experienced in 2017.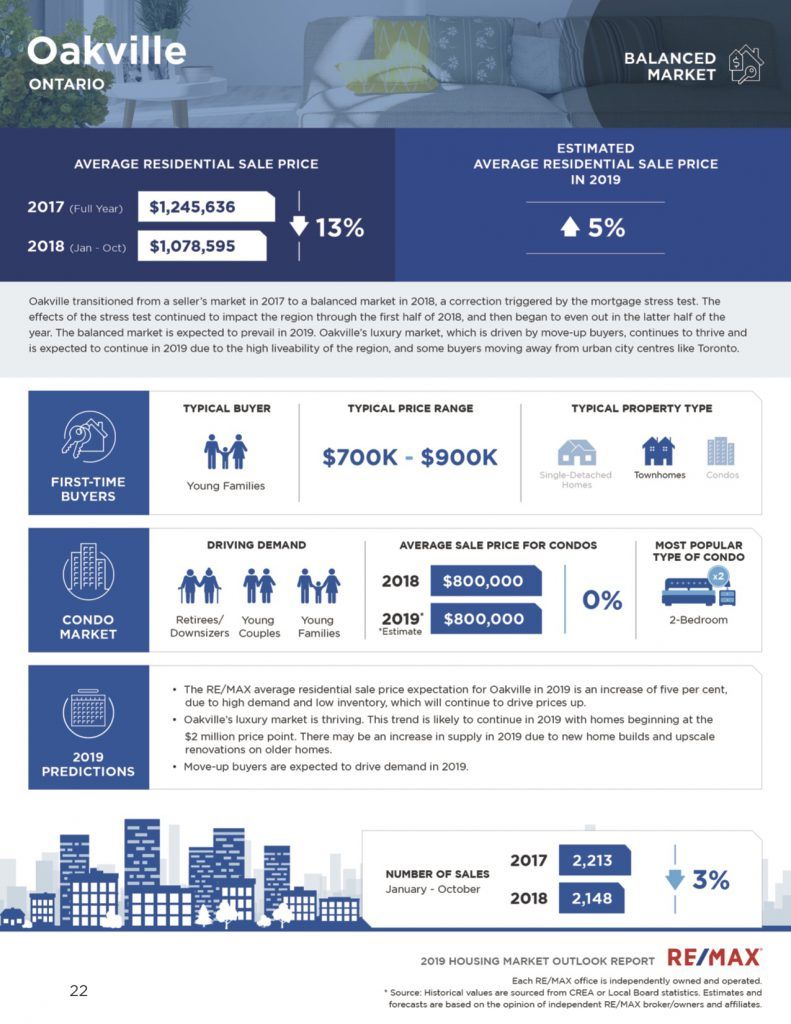 Oakville
Oakville transitioned from a seller's market in 2017 to a balanced market in 2018, a correction triggered by the mortgage stress test. The effects of the stress test continued to impact the region through the first half of 2018, and then began to even out in the latter half of the year. The balanced market is expected to prevail in 2019. Oakville's luxury market, which is driven by move-up buyers, continues to thrive and is expected to continue in 2019 due to the high liveability of the region, and some buyers moving away from urban city centres like Toronto.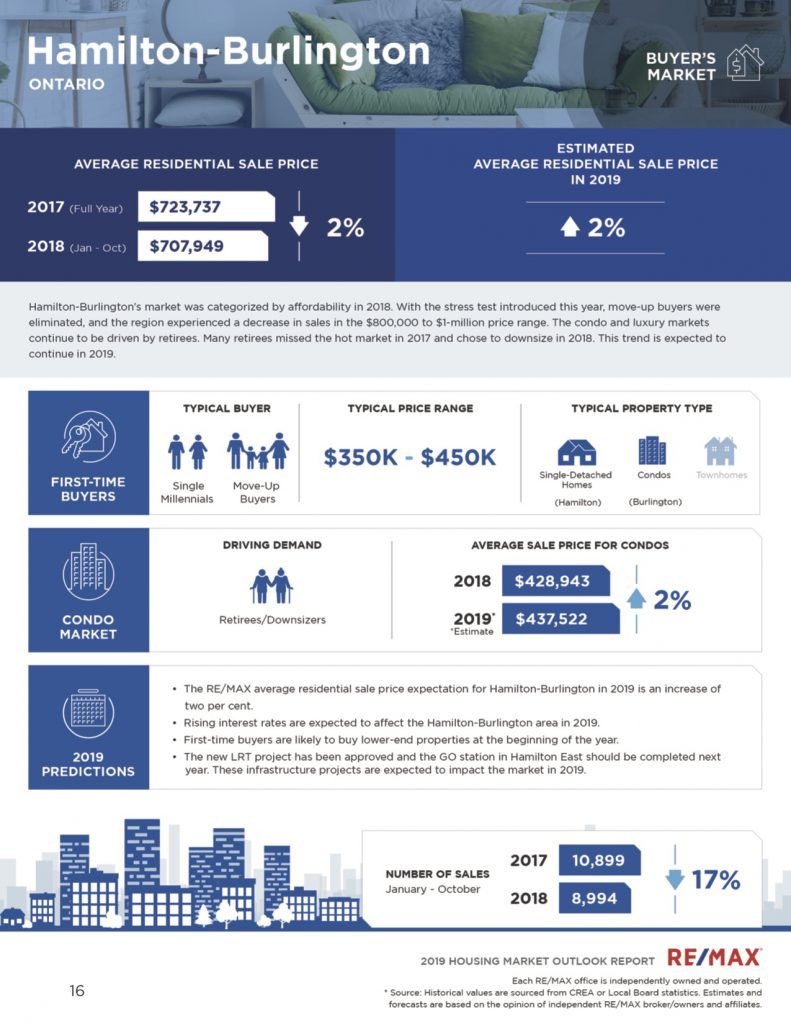 Burlington - Hamilton
Hamilton-Bulington's market was categorized by affordability in 2018. With the stress test introduced this year, move-up buyers were eliminated, and the region experienced a decrease in sales in the $800,000 to $1-million prince range. The condo and luxury markets continue to be driven by retirees. Many retirees missed the hot market in 2017 and chose to downsize in 2018. This trend is expected to continue in 2019.
Mississauga
Mississauga is seeing a balanced market with some listings taking longer to sell or selling lower than list price. These conditions are expected to prevail into 2019. Mississauga's luxury market is currently seeing an increase in activity, with new builds and newly renovated homes selling at a fast pace. Growing trends include Millennial's being priced out of the freehold market.
Toronto
Rising interest rates and the mortgage stress test were major factors affecting market activity in Toronto. Overall sales were down 16 per cent and the single-detached home market fell short. Condominium and townhome sales are strong in Toronto, and there's now less of a price difference between freeholds and townhomes. The sale of homes priced below $1 million is expected to remain strong in 2019, while homes priced over $1.5 million will be weaker overall.
Have any Questions
We're here for you!
Want more seller ideas?
We post new content every week!